Five Colour Trends to Watch in 2019
Updated: Jan 30, 2019


These colours are expected to influence the design world in the coming year.
The new year is here, and major paint manufacturers and colour forecasters have already crowned their colour of 2019. Spanning the colour spectrum from cool greys to warm terra-cottas, to blush oranges, these five colour trends are expected to dominate the design and manufacturing industries in the coming year.


Warm Terra-cottas
"A nod to mid-century modern style" is how Sherwin-Williams describes its 2019 colour of the year. "Cavern Clay embodies renewal, simplicity, and free-spirited, bohemian flair," says Sherwin-Williams' director of colour marketing Sue Wadden. This warm, terra-cotta hue is down to earth, welcoming, and refined, and pairs well with warm greys, deep browns, mid-tone blues, and warm neutrals. Sherwin-Williams recommends using this colour with Moth Wing SW 9174 (warm taupe), Dark Clove SW 9183 (deep brown), Distance SW 6243 (rich, calming blue), or Origami White SW 7636 (neutral white) to create a balanced, sophisticated look in interior or exterior spaces.
Mid-tone Blues
Behr's colour of 2019 aims to be timeless, modern, approachable, and calming. This mid-toned denim blue "makes it easy for homeowners and apartment dwellers across the country to reimagine their space," says Behr chief marketing officer Jodi Allen. To add depth and versatility, Behr suggests pairing Blueprint with Amber Autumn S290-5
(warm, golden beige), Ecological S380-6 (soft, warm green), Elephant Skin PPU18-16 (warm, mid-toned taupe), Sand Dance S190-2 (warm, peachy-pink), and Antigua M460-7 (vibrant blue-green). behr.com


Calm Greys
This light grey hue with cool undertones is Benjamin Moore's colour of the year. "Metropolitan reflects the modern sophistication of 21st-century design," the company writes on its website. The inherent serenity of this grey helps create a soothing and airy feeling in interior spaces or a sophisticated look on exteriors. "It's a colour in the neutral spectrum that references a contemplative state of mind and design," says Benjamin Moore director of strategic design intelligence Ellen O'Neill. Along with the Metropolitan, Benjamin Moore has introduced a palette of 15 harmonious colours that complement its colour of the year. Benjamin Moore suggests pairing Metropolitan with metallic accents and a navy blue colour such as Hale Navy HC-154, a saturated classic green such as Hunter Green 2041-10, or a rich charcoal grey such as Kendall Charcoal HC-166. benjaminmoore.com
Classic Greens
PPG's colour of the year is a deep hunter green that aims to invoke the invigorating impact of nature. Night Watch "can be especially impactful in places without any view or tie to the outdoors, like the end of a windowless hallway of a hospital," says PPG senior colour marketing manager Dee Schlotter. But this classic green shade works well on most of the interior and exterior surfaces. Use it on one interior wall to create a focal point or apply it onto the exterior façade, doors, or shutters for an easy curb appeal makeover. In addition, Night Watch works particularly well when paired with gold or brass accents. ppgpaints.com


Blush Oranges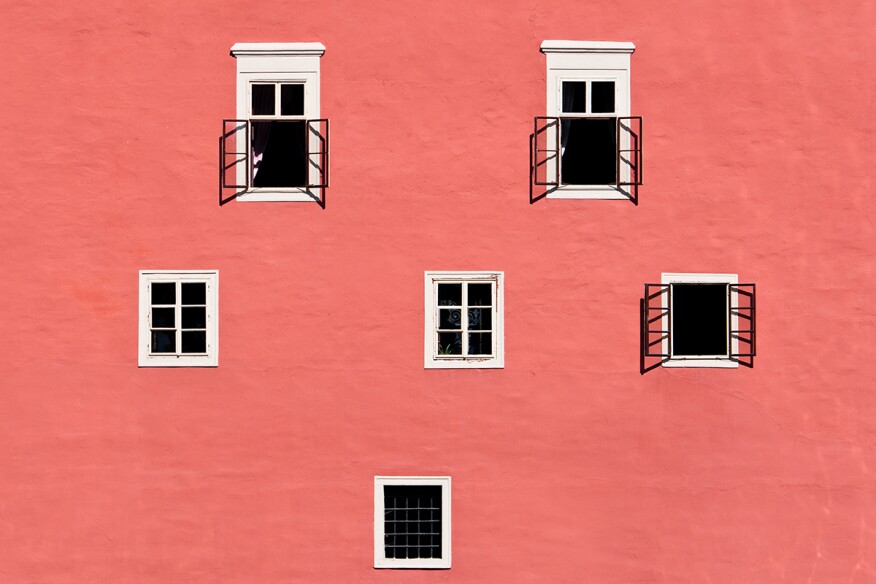 With just a hint of gold undertone, this "vibrant yet mellow" blush orange was inspired by oceanic coral reefs. "Colour enhances and influences the way we experience life," says Pantone Colour Institute vice president Laurie Pressman. "As a shade that affirms life through a dual role of energising and nourishing, ... Living Coral reinforces how colours can embody our collective experience and reflect what is taking place in our global culture at a moment in time." Living Coral's playful nature comes to life when used as a statement like on a feature wall, or as an accent colour with rugs, wallpapers, blankets, and upholstery. pantone.com